Effortlessly Manage Your Payroll with Reliable Payroll Services
Stay Compliant, Ensure Timely Payments, and Streamline Your Payroll Processes.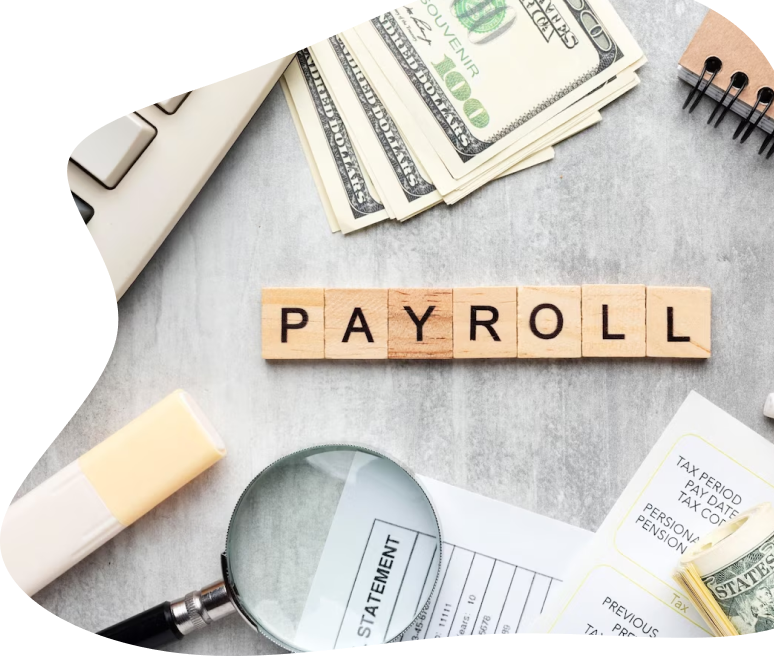 Payroll refers to the process of managing and administering employee compensation, including salaries, wages, bonuses, and deductions. It involves calculating employee earnings, withholding taxes, and other deductions, and ensuring timely and accurate payment to employees. Payroll also involves fulfilling tax obligations, reporting requirements, and compliance with labor laws.
Reasons for create Payroll

Assess Your Payroll Needs
Evaluate the complexity and size of your payroll requirements. Consider factors such as the number of employees, pay frequency, benefits, deductions, and tax obligations. Determine whether you need basic payroll processing or more comprehensive payroll management services.

Research and Select a Payroll Service Provide
Research reputable payroll service providers or Accountant firms that specialize in payroll services. Look for expertise, experience, reliability, data security measures, and a strong track record in serving businesses similar to yours.


Consultation and Setup
Schedule a consultation with the payroll service provider to discuss your specific needs, employee data, payroll schedule, and reporting requirements. The provider will guide you through the setup process, including obtaining necessary information and setting up a secure payroll system.


Employee Data Collection
Provide the payroll service provider with accurate and up-to-date employee data, including names, addresses, Social Security numbers, tax withholding preferences, benefits, and deductions. This information ensures accurate payroll calculations and tax compliance.


Ongoing Payroll Processing
Going forward, you will provide the necessary information to the payroll service provider on a regular basis, such as employee hours worked, new hires, terminations, and changes in compensation or deductions. The provider will handle payroll calculations, tax withholdings, direct deposits, and paycheck generation.
Frequently asked questions
Yes, reputable payroll service providers will provide you with access to payroll information through online platforms or secure portals. You can access payroll reports, employee information, and pay stubs as needed.
Payroll service providers handle payroll taxes by calculating the correct amount of taxes to be withheld from employees' wages, remitting payroll taxes to the appropriate tax authorities, and preparing and filing tax forms on your behalf.
If there are changes or errors in payroll data, promptly inform your payroll service provider. They will make the necessary adjustments and corrections to ensure accurate payroll calculations and tax withholdings.

Expertise and Experience
Our team of Accountants specializes in providing accurate and efficient payroll services. We have in-depth knowledge of payroll regulations, tax laws, and compliance requirements.

Customized Solutions
We understand that every business has unique payroll needs. We provide tailored payroll solutions that align with your specific requirements, ensuring accuracy, timeliness, and compliance.

Data Security and Confidentiality
3.We prioritize data security and confidentiality. Our firm utilizes secure payroll systems and adheres to strict protocols to safeguard your sensitive payroll information, ensuring its protection and privacy.

Timely and Reliable Service
We understand the importance of timely payroll processing. Our team is committed to providing accurate and on-time payments to your employees, fostering trust and satisfaction among your workforce.
"Helponic's payroll services have been a lifesaver for our company. Their team is efficient, accurate, and reliable. They handle all aspects of payroll seamlessly, allowing us to focus on other important aspects of our business. Highly recommended!
David
"Helponic's payroll services have simplified our payroll processes. Their team is professional, responsive, and ensures that our employees are paid accurately and on time. We appreciate their attention to detail and the peace of mind they provide.
Dakota
"Helponic has been a trusted partner in handling our payroll. Their payroll services are prompt, accurate, and hassle-free. We have confidence in their expertise and appreciate their commitment to excellence.
Eric
Partner with Helponic today and experience the difference of working with a dedicated team that understands the unique challenges and opportunities Payroll present. Contact us for a consultation and let us help you build a solid foundation for your business success.